Video Game Rap Battles is a rap battle series started by Cameron Greely and his friend Jordan. It is currently in its first season with 50 battles in it. The battles are uploaded on Cam VGRB YouTube channel. The channel was started on September 9th, 2012.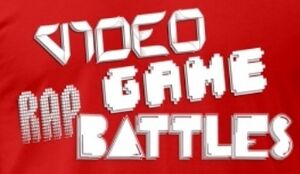 1- Ash Ketchum VS Super Mario
3- Herobrine VS Slenderman
5- Ken Masters VS Sub-Zero
6- Alex Mason VS Henry Blackburn
7- Super Smash Bros VS PlayStation All Stars
8- Herobrine VS Slenderman part 2
9- Professor Oak VS Charles Darwin
11- Trevor Phillips vs Gonny Gat
12- Slenderman vs Freddy Fazbear
14- Mario vs Sonic the Hedgehog
15- Link vs Cloud
18- Hello Neighbor vs Simulator
Ad blocker interference detected!
Wikia is a free-to-use site that makes money from advertising. We have a modified experience for viewers using ad blockers

Wikia is not accessible if you've made further modifications. Remove the custom ad blocker rule(s) and the page will load as expected.