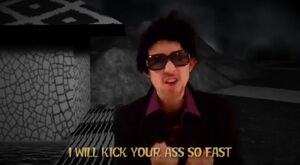 Tim Burton battled M. Night Shyamalan, Ed Wood, Alfred Hitchcock, Peter Jackson, Stanley Kubrick and Steven Spielburg in Epic Rap Battle Parodies 44. He was played by Froggy.
Information on the Rapper:
Edit
Timothy Walter "Tim" Burton (born August 25, 1958) is an American film director, producer, artist, writer, and animator. He is known for his dark, gothic, macabre, and quirky horror and fantasy films such as Beetlejuice, Edward Scissorhands, The Nightmare Before Christmas, Ed Wood, Sleepy Hollow, Corpse Bride, Sweeney Todd: The Demon Barber of Fleet Street, Dark Shadows and Frankenweenie, and for blockbusters such as Pee-wee's Big Adventure, Batman, its first sequel Batman Returns, Planet of the Apes, Charlie and the Chocolate Factory and Alice in Wonderland.
Burton has worked repeatedly with Johnny Depp, who has become a close friend of Burton since their first film together. He has also worked with musician Danny Elfman, who has composed scores for all but two of the films Burton has directed. Actress Helena Bonham Carter, Burton's domestic partner, has appeared in many of his films. He also wrote and illustrated the poetry book The Melancholy Death of Oyster Boy & Other Stories, published in 1997, and a compilation of his drawings, sketches and other artwork, entitled The Art of Tim Burton, was released in 2009.
Verse One:
Edit
Shut the hell up, Wood! You're only known because of me
I'm the grittiest, darkest, demented director you'll ever see!
I'll cut you up like Scissorhands, and slice you like Sweeney
And when I'm done, there'll be no one to sew you up like Frankenweenie!
Shyamalan, be quick and get gone! Give us "Signs" you won't come back!
I'm gonna kick your ass so fast, with a Danny Elfman soundtrack!
Willy Wonka? Dark! Peewee Herman? Dark! Johnny Depp is my bitch!
Why don't you two get out of film and suck my black and white dick!?
Ad blocker interference detected!
Wikia is a free-to-use site that makes money from advertising. We have a modified experience for viewers using ad blockers

Wikia is not accessible if you've made further modifications. Remove the custom ad blocker rule(s) and the page will load as expected.