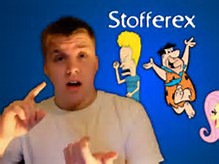 Stofferex (born August 11th 1996) is a swedish Youtuber.
Stoff first heard about ERBParodies because of the infamous "Mozart vs Skrillex" troll on the ERB wiki, which he was a member of. He then became a fan.
Later on he got a friend request by Justin on Facebook. When Stoff asked him why he added him, Justin responded with "because I saw you liked our page and ERB's". They then became friends. Stoff then befriended the rest of the crew.
He's a big fan of Creepypasta's, so you can just guess what his favorite battle is. The crew also thinks he's skilled with impressions, some of his most famous voices are Fluttershy and Beavis.
Homer Simpson (voice only)
Sylvester Stallone
Alfred Hitchcock (voice only)
BOB (voice only)
Other roles
Edit
He's the second swedish Youtuber to appear in a ERBP, the first one being EpicDoctorX.
However, he's the first swede to rap in a ERBP
Despite being a 17/18 year old male, he can sound like a little girl. His most famous girl voice is Fluttershy from "My Little Pony"
Ad blocker interference detected!
Wikia is a free-to-use site that makes money from advertising. We have a modified experience for viewers using ad blockers

Wikia is not accessible if you've made further modifications. Remove the custom ad blocker rule(s) and the page will load as expected.