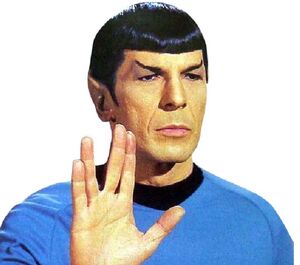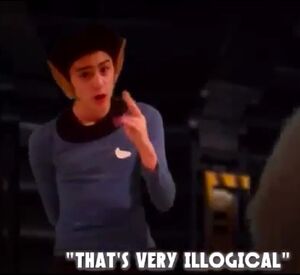 Spock made a cameo appearance in Epic Rap Battle Parodies 29. He was played by Froggy.
Information
Edit
Spock (full name unpronounceable in human language) is one of the main characters from the Star Trek franchise. Spock is half-human and half-Vulcan, which is an important element in many of his appearances. He serves aboard the USS Enterprise as a science officer and first officer under command of Captain James T. Kirk, and later serves as the commanding officer. He also acts to give the captain a logical perspective on problems. During the run of the original series, Spock quickly gained much popularity and many positive reviews, becoming a fan-favorite character. He is played by Leonard Nimoy in the original series and played by both Nimoy (as Spock Prime) and Zachary Quinto in the reboots.
Cameo Line
Edit
Just Like Spock says
Verse One:
Edit
That's very illogical!
This Historical Figure was used by Epic Rap Battles of History
Ad blocker interference detected!
Wikia is a free-to-use site that makes money from advertising. We have a modified experience for viewers using ad blockers

Wikia is not accessible if you've made further modifications. Remove the custom ad blocker rule(s) and the page will load as expected.