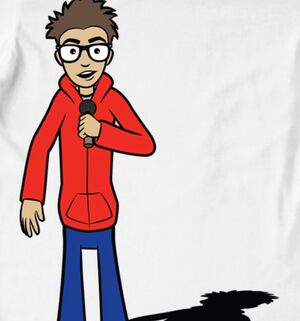 Puff Puff battled Steve Smith in Epic Rap Battle Parodies 4. He was played by Nathan Provost.
Information on the Rapper:
Edit
Puff Puff Humbert is the lead singer of the comedy YouTube band Your Favorite Martian, voiced by YouTube personality and comedian Ray William Johnson.
Puff Puff Humbert is the only one of the band group without hair in his face, and the only one with glasses. He wears seeming-most-commonly-seen-nowadays, common, thick-framed, thick-lensed, black-framed eyeglasses with white dots at the sides near the glasses "ear-sticks" and the lenses. He has large, black eyes (probably inframed from his large glasses), light-tan, light-brownish skin (might look lighter if you don't look hard enough), a crew cut of a spiked-up haircut in brown color. He wears a bright dark-red "hoodie sweatshirt", a light-blue undershirt, large, thick, dark-black brows, seemingly no lashes (being a cartoon male), and white sneakers like fellow YFM character DeeJay.
Verse One:
Edit
Hello, little bitch, Steve Smith
I'm gonna show you who can be the better red jacket, glasses wearer, you little faggot
You alien smuggler, make you drink your Orphan Tears
After I kill your mom and dad from getting White Boy Wasted, queer
Good morning U.S.A.?
Bitch, I Live on Jupiter
Grandma Got a Facebook, poking you, it makes you look stupider
I Fight to Win, bitch, I'm Stalkin' Your Mom
You're extremely poor, bro, write a Bartender Song
Verse Two:
Edit
You searched 8 years for a girl to bone
You can't get none, bro, you're left in the Friend Zone
Your mom Looks Like Sex, she'll always Text Me Back
But the Bitch Got a Penis, and she's also Dookie Fresh
Ad blocker interference detected!
Wikia is a free-to-use site that makes money from advertising. We have a modified experience for viewers using ad blockers

Wikia is not accessible if you've made further modifications. Remove the custom ad blocker rule(s) and the page will load as expected.