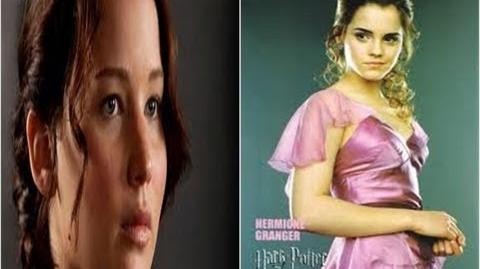 The 14th battle in EpicRapBattles10's rap battles. It features District 12's hero Katniss Everdeen against Harry Potter's friend Hermoine Granger. It was uploaded April 9th, 2012.
Katniss Everdeen:
Edit
My name is Katniss Everdeen, the best that you've ever seen,
No, you don't want to mess with me, come after you aggressively,
Bow and arrow in my hand, everything going as planned,
Time to make your final stand, try and catch me if you can,
When it comes to rap, we all know that you're the weakest,
You're just mad since Harry dosen't want to slither up your Chamber of Secrets,
So screw Harry Potter, go with the redhead instead,
If you think you can beat me, you've been poorly misled!
Hermione Granger:
Edit
Hermione Granger's in the building so your chances are slim,
You think you're a hero for volunterring for Prim?
Harry Potter's about to slaughter you and your mother's other daughter,
Time to fight, say goodnight, my raps are better, out of sight,
I use magic to solve my problems, you use a bow and arrow,
Your chances of beating me in this battle are very narrow,
Still think you can beat me? I come from the Hogwarts Crew!
Last time you made a friend she died! Remember Rue?
Katniss Everdeen:
Edit
Shut up Mudblood! Look at the path you have chose,
You're afraid of a brainless freak who dosen't even have a nose!
District 12 is where it's at, I don't care if we are poor,
I make plenty of money selling food at our trading store,
I don't care about your adventures, I have them everyday,
You and Harry keep your Sorcerer's Stone, i'll stick with my MockingJay,
Your movie series is over, now your legacy has died,
So take that wand back, have fun being a redhead's bride!
Hermione Granger:
Edit
I'm a Mudblood you say? Get this fact though your head!
The only reason you're alive is Peeta threw you some bread,
Come have a feast at Hogwarts, we eat like champs!
You're a Call of Duty n00b, all you did in the Games was camp!
You only killed 2, think that's a sucessful scene?
I can kill them with my eyes closed Katniss Everdeen,
This battle is over, I spit my final verse,
Play with your bow and arrow, i'll invent a new death curse!