Andy Milonakis battled
Macklemore
,
Eminem
,
Eyedea
,
Mac Miller
,
Kid Rock
and
Tupac
in 
Epic Rap Battle Parodies 14
. He was played by
Justin Buckner
.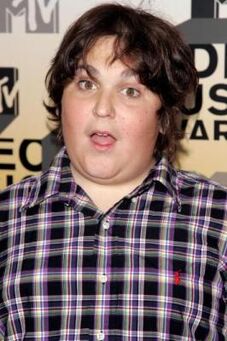 Information on the rapper
Edit
Andy Milonakis (born on January 30, 1976) is an american rapper, actor, comedian, and writer. He was born with congenital growth hormone condition which makes him look and sound like an adolescent even though he's an adult. He is mainly known for creating and starring in the Andy Minonakis Show. his show stars on MTV.
I rock peas on my head, but don't call me a peahead!
It's time to show these swaggy-faggies that they're truly inbred!
I had my own show on MTV, all you had was lawsuits,
You should be in a basket, because your raps are like fruits!
That means you're little homosexuals that whine and cry,
And write raps about your lifestory and how you want to die!
Humor is a great defense mechanism,
My raps will grow, unlike my congential hormone syndrome!
Macklemore, more like Macklewhore, what's up with that?
Did Ryan Lewis touch your cold-ass honkey, in your pants you went ker-splat?
I would rather eat Skittles than acknowlage Eminem,
I will brutally stab you, throw you in a trunk like Kim!
If you're a dumb, spitting, wigger, you're not the king of rap!
Emimore, you're about to get conjoined with a bitch slap!
You're never gonna dis the Schmandy Schmilishmokas,
Because it's MY show, i'm Andy Milonakis!
Ad blocker interference detected!
Wikia is a free-to-use site that makes money from advertising. We have a modified experience for viewers using ad blockers

Wikia is not accessible if you've made further modifications. Remove the custom ad blocker rule(s) and the page will load as expected.